Quality Control: 5 Important Mistakes to Avoid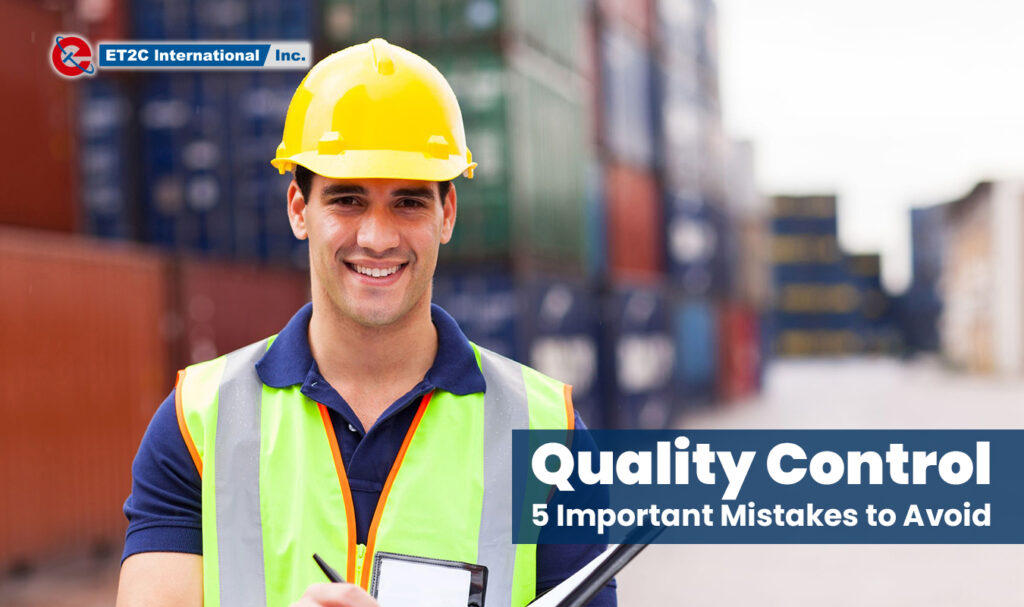 Quality control is a valuable part of any supply chain process and will give you visibility of the product quality prior to shipment. There are some common pitfalls to avoid though and navigating these should save both time and money.
Quality Control (QC) is a process that considers all aspects of manufacturing a product. This includes aspects such as vendor capability, management, and, of course, product quality. Preventing mistakes and product defects at the source provides the customer with reassurance that their shipments are to the requisite quality level. The last thing that anyone wants is to be shipping a quality problem. This will inevitably be costly and difficult to correct once the ship leaves the Port!
QC is a useful tool to manage product quality on-site at a factory.  Certainly, it is important to make sure it is done correctly. With so many companies leveraging the benefits of Asian supply chains, having this visibility ensures that the risk of quality defects is mitigated. However, there are some common areas where companies make simple mistakes.
Quality Control: 5 mistakes you should really avoid
Below is a short summary of 5 common mistakes that can lead to quality issues:
1. Skipping the Samples Approval
Part of benefiting from upstream quality control is about the 'set-up'. For example, clearifying what the quality level is and being able to reference this during any QC process is paramount. Before mass production, it is therefore imperative that you check the product you have required. When manufacturing products in Asia, you should always implement a "gold seal sample" process.
This means having identical development or pre-production samples made, and signed by all parties (factory, client and agent) and then retained by each respective party for reference as and when required.
This sample is the result of an approval process and is essentially the "go-ahead" signal for production. This is particularly important for any quality control inspector to be able to check the bulk pieces against. The 'Gold Seal sample' represents a perfectly made product that is in full alignment with your product quality standards.
2. Providing inaccurate Product Specifications
Similarly, it is important to set out as much detail with the product specification. Even with a gold seal sample in place, having documented and signed off (by all parties) the product specifications will provide evidence of dimensions, function, any printing and packaging some of which may not be covered by the Gold Seal sample.
When it comes to dealing with your manufacturers, specificity is key. This is particularly important where language and culture need to be bridged. For example, 'This Way Up' printed on a box for a fragile item is obvious for English language speakers. However, where English is not widely spoken, don't be surprised if it isn't printed the right way around. It is therefore important to reduce the margin of uncertainty and be clear and never assume anything.
Even for repeat orders, a specification sheet can clearly detail the materials used which will prevent cheaper substitutes. It is the base documentation for your product, so the more detail the better. The product specification should also include certain physical or chemical standards required which may require a testing house to do some lab tests.
By defining every detail in an official document, no excuses can be made when a shipment does not meet your standards.
Specifications should cover dimensions, product images, material used, components, function, colours and pantone references, packaging details, print artwork, certifications, standards, labelling and packaging way. Once all aspects of your product are documented and you have a gold seal sample, the subsequent quality control process can be overlaid much more effectively.
3. Not identifying the Quality Risk Areas
Understand your product and the potential quality issues. This may be based on past experience or just recent results with an incumbent supplier. Taking into account the quality risk, it is possible to target specific areas of the manufacturing process to proactively eliminate issues as they occur at earlier stages of the production. Of course, the financial and commercial risk of quality issues arising will need to be taken into account at the same time. For example, you may have just landed a large new client account and the quality needs perfect.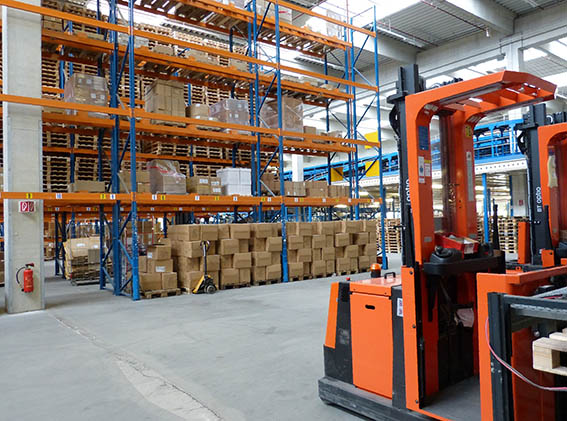 At each step, the workflows and the purpose of quality control are quite different. Here are the main QC services that you can consider:
1. Factory Evaluation
2. Sample Development Consulting
3. Product Standard Consulting
4. During Production Inspection (DUPRO)
5. Pre-shipment Inspection (AQL test) (PSI)
6. Pre-shipment Inspection (piece by piece checking)
7. Loading Inspection (LI)
8. Product Checking List Development.
Certainly, they are all important and, as your company needs might vary, some quality checks are even more important than others. A quality risk assessment will allow you to select which quality control audits are implemented.
For example, the factory evaluation will identify potential issues with the supplier that may in fact stop any further work or product development. Or implementing a pre-shipment inspection will help catch any issues before it is too late, saving you time and money.
4. The QC Inspector as the 'Policeman'
Quality needs to be about collaboration. There needs to be a move away from the quality inspector as a 'policeman' who comes in and performs a tick the box exercise. Certainly, factories might tell you that they have internal QC methods and procedures that result in very low defect rates. Clearly, an independent pair of eyes would still be beneficial and add a level of objectivity. But, the more the factory can understand the quality requirements and the more the inspector can understand the manufacturing process, the better placed all parties are to identify quality issues and correct them.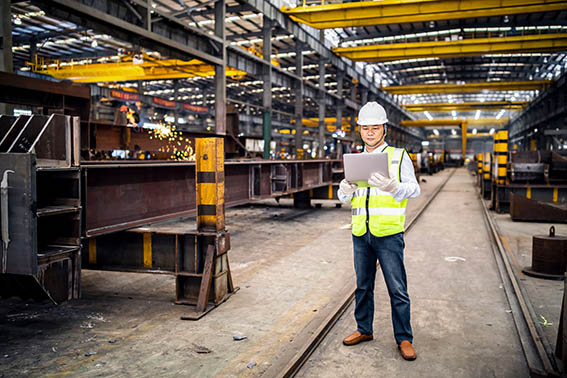 This works back up the manufacturing process and should encourage continuous improvement methodologies to address a process/machine/employee that is causing a defect and make the necessary changes or adjustments.
This collaboration is very much distinct from the inspector being too close to the factory managers. To this extent, the objectivity has to be maintained so as not to create any conflicts of interest. Also, often third-party inspectors bring with them experience across different product categories, which provides additional added value when it comes to potential product-specific quality issues.
5. Ignoring the Data
Often the quality control piece is seen as transactional; the goods have passed and the focus shifts to the next production run. Rather companies need to take the time to step back and look at the data. For one supplier, looking across multiple shipments over a period of time may identify one particular quality defect that is an issue. It should then be possible to speak to the factory and through a root cause analysis identify what is driving this particular issue and implement a corrective action plan to address it.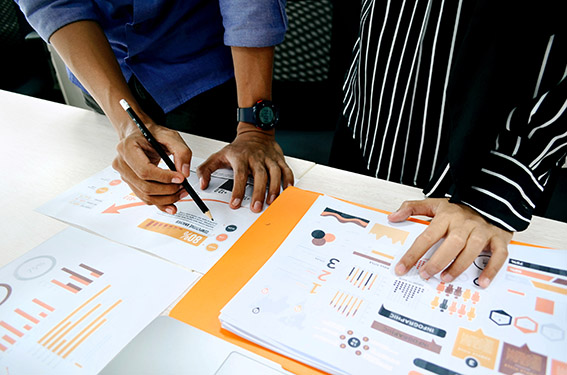 For example, if loose threads are commonly featuring on your pre-shipment QC reports for some cotton upper shoes, then working with the factory to remove this quality issue will save time and cost. Additional checks could be implemented during the sewing stage to reiterate to the workers that the threads should be properly trimmed. Likewise, you could implement internal QC on the production line as the shoes move down the conveyor belt to cut any loose threads still showing.
Looking for third-party quality control services?
Finding a trustworthy third-party quality control service will provide a significant benefit to your business. We at ET2C International understand the necessity for transparency and accountability because they are core to what we do each day.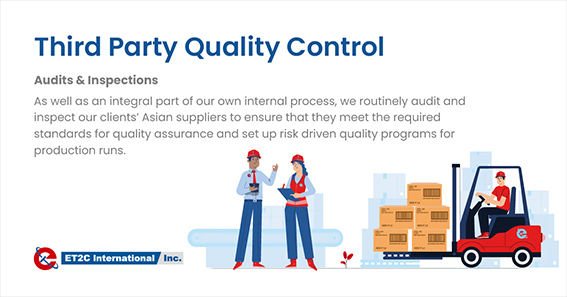 With our own dedicated quality team across Asia, we look to deliver the visibility you need to sign off shipments. We are already investing in technology to enhance the service we provide our clients in this arena. For more information, please contact us at contact@et2cint.com.