Sustainable Shoes: The Industry & Material Trends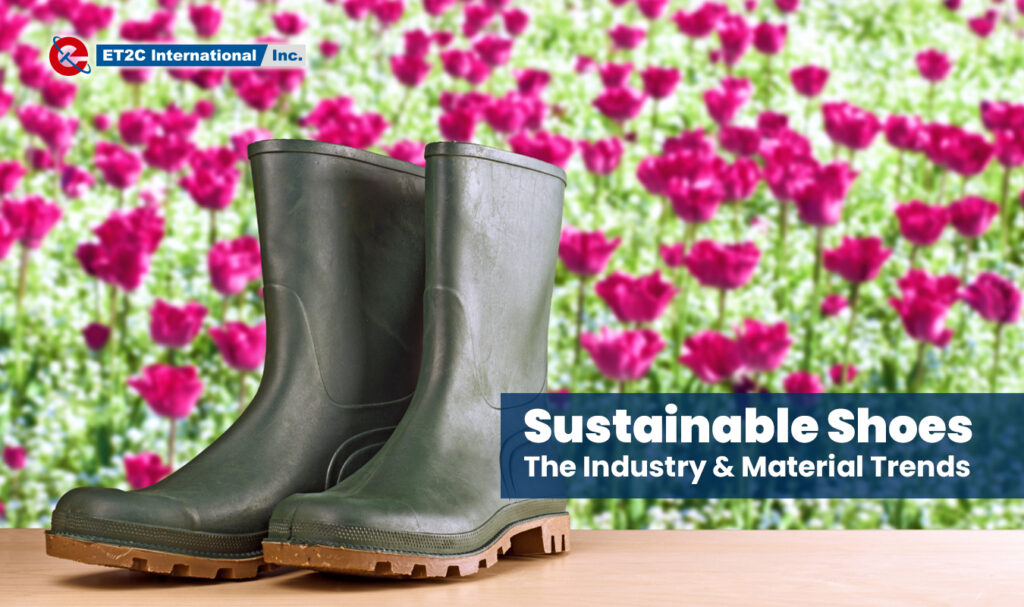 Sustainable shoes are a mainstay within the fashion sector. Whether it be ethics, environment or energy consumption, many brands have sustainability as part of their brand proposition.
Sustainable shoes will continue to grow in importance within the fashion sector. Sustainability has been an increasingly hot topic across many industries in recent years, with customers the world over encouraging companies to do better. For fashion, it means a shift of focus away from fast fashion, which is often quick, relies on low-cost manufacturing and more often than not has a negative impact on the environment (wastage being one element), to sustainable fashion that takes into consideration both environmental and social aspects – and the footwear market is no exception.
The Footwear Distributors & Retailers of America (FDRA) defines sustainability in the footwear industry as "shoe design, development, manufacturing, distribution, and selling processes that minimize negative environmental impacts, conserve energy and natural resources, are safe for employees, communities, and consumers, and are economically sound".
Market Evolution
There are clear market indicators for the growth of sustainable footwear and clothing, as can be seen across different stakeholders in the supply chain. To start, the consumer's growing consciousness of the environment and society more broadly is driving retailers to change their product offer. Mostly encouraged by Generation Z and millennial consumers, who are generally more aware of the need for sustainable options in their product choices.
This all feeds back up the supply chain and often into factories across Asia. Over the past five years, the increase in supplier audits has been clearly noticeable. But it is not only around product quality, but more around ethics and employee welfare. Platforms such as Sedex, that share supplier information and audits, are providing buyers with up-to-date supplier audits across the quality spectrum to mitigate the 'audit malaise'. In fact, from our experience, Asian factories are broadly well placed to meet the needs of Western brands (and their consumers) but it is still important to work with the right partner that is aligned to your requirements.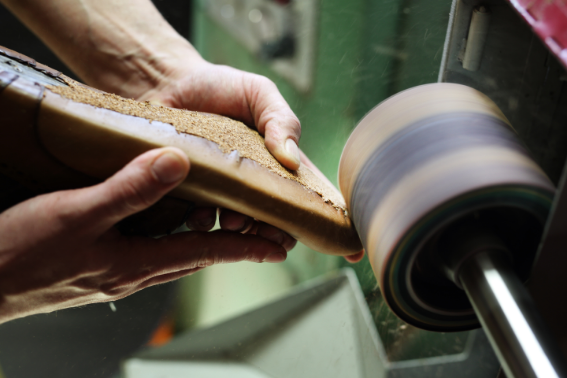 Even Governments are supporting sustainability initiatives that will underpin this transition within the fashion industry. As an example, the UK government has announced plans for an initiative to launch a waste prevention program, one of the aims of which is sustainable fashion, in its commitment to end the 'throwaway' culture. There is also a UN Alliance for sustainable fashion that is focused on coordinated action in the fashion sector, including footwear.
This will all drive change in what is an industry that has over the past decade been seen as wasteful and environmentally damaging. To take it to the extreme, there have been incidents reported of fashion houses burning stock in worth in excess of $30 million to protect it being sold on the cheap.
Sustainable Shoes
Aside from factory ethics, there are some popular sustainable material options that are already widespread within the footwear industry. These are only the start, and there will be more alternatives (it often comes down to an issue of price), but we wanted to highlight some of the most popular sustainable shoe trends in the market:
1. "Better" cotton (BCI – Better Cotton Initiative)
Cotton is a notoriously water-dependent (20,000 litres is required to produce just one kilogram of cotton, equivalent to a single t-shirt or a pair of jeans). BCI principles, therefore, cover a range of key focus areas; minimize harmful effects on crops, efficiently use water and protect water sources, emphasize soil health, protect natural habitats, ensure fiber quality and promote fair working conditions. The material has been adopted by numerous leading brands (H&M, Adidas, Nike, etc.) and its share in footwear manufacturing keeps growing exponentially. The cotton can be used for the shoe upper (sneakers, espadrilles, etc.), laces.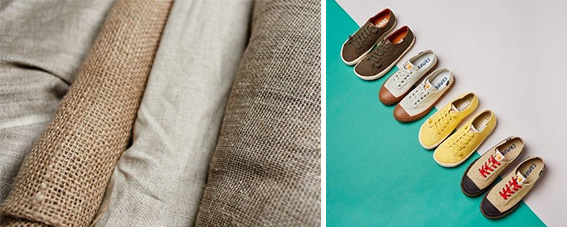 2. Recycled rubber
The material comes from post-consumer discarded vehicle tires and virgin rubber items abandoned in landfills: using recycled rubber creates a substantially smaller (by a factor of up to 20 times) carbon footprint as compared to using virgin plastic resins. Recycled rubber in footwear is mostly used in shoe soles, rubber shoes – rubber wellies, flip flops, etc.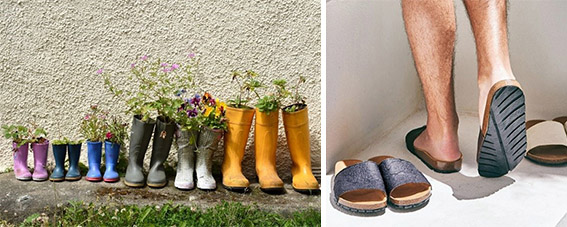 3. Ocean plastic
In recent decades, plastic waste has accumulated enormously both on the ground and underwater; the ocean is filled with discarded plastic items threatening the normal life of various ocean ecosystems. To tackle this problem, with the help of fishermen, volunteers and other organizations, footwear brands committed to ocean fabric development work to collect marine debris from the ocean and beaches to produce the raw material fibers and fabrics. There is a multitude of brands that currently offer ocean plastic sneakers Adidas, Puma, Nike as well as small brands like Soludos among many others).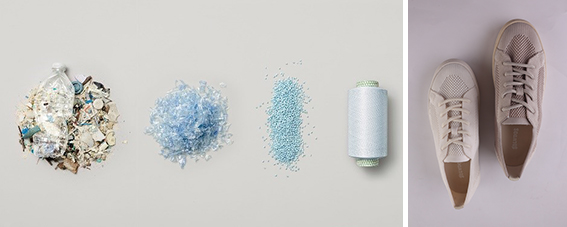 4. Jute
Jute is a natural fiber that comes from the plant of the same name. It can be twisted like yarn or braided like a rope and formed into variety of shapes (mainly for shoe soles). Below is an image of a pair of shoes where the shoe sole is made of jute.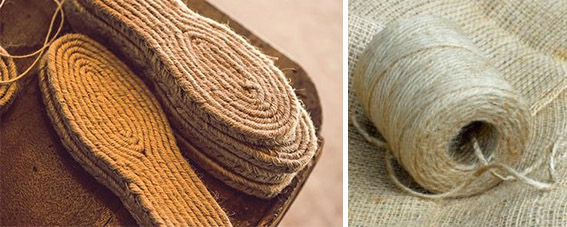 5. Cork
Cork is made from the bark of the cork oak tree, the material is solid but very light which makes it especially good for orthopedic shoes. This material is natural, renewable, and good for the environment – it is one of the MOST sustainable materials available today. It is mostly used for shoe soles; another popular option for this material that is growing in popularity is cork leather – and it looks great too!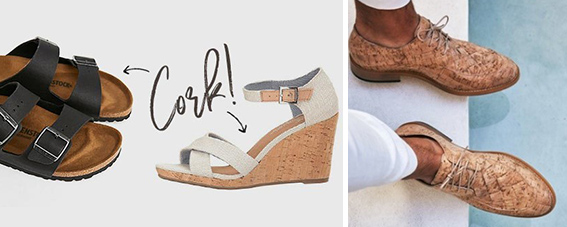 6. Honorable mentions
There are other materials that deserve a mention as part of the sustainable shoes movement but are not quite as widespread at present within the fashion industry. These include Sugarcane, Hemp, Coconut coir, Bamboo, and Wool.
Fortunately, there are companies now that are passionate about the environment preservation for future generations, supported by an ever-growing customer base deciding to go green. The footwear sustainability trend is only expected to grow and expand. One of the leading companies in this field is Allbirds, whose motto epitomizes this new brand direction within the field of sustainability:
"Mother Nature is our muse. Building on her handiwork, we're finding new uses for materials that exist right in front of us."
Summary
At ET2C we care deeply about the environment and are doing what we can to understand more about sustainability and what it means to us and our clients. Whether it is shoes, fashion, packaging and many other sectors, we are here to help you. For all your sustainability requirements, please contact us at contact@et2cint.com.