Hand in glove to prevent the virus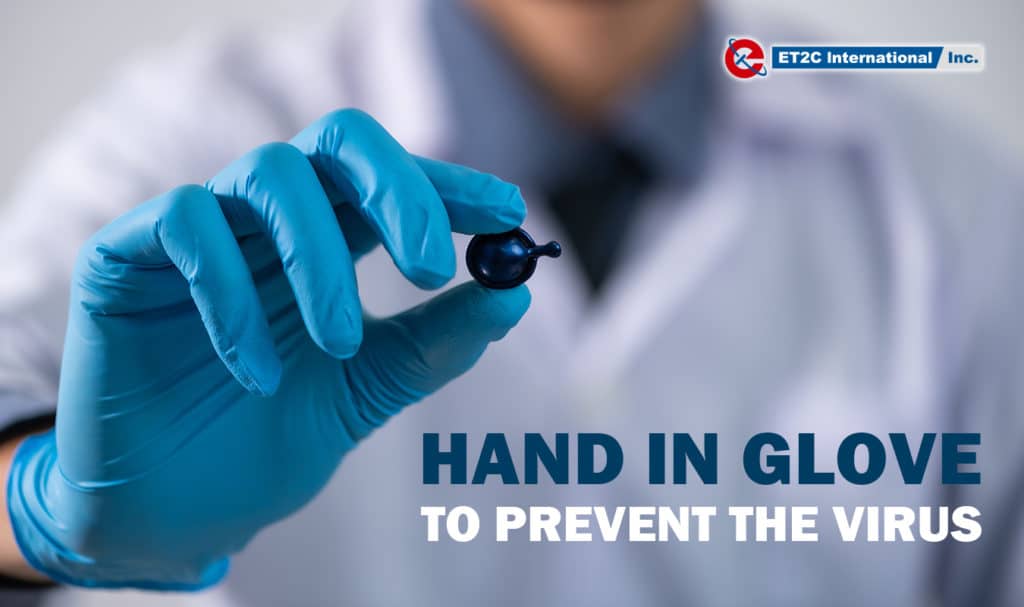 As the coronavirus continues its spread, the entire world is facing acute shortages of materials like masks, hand-sanitizers and ventilators.
To tackle the difficult situation, many industries are developing new supply-chain strategies and management practices. The primary goal is to urgently optimize scarce resources, alleviate shortages, and expand capacity quickly.
Governments and health organizations are providing new regulations and guidelines, which change rapidly to front a scenario in continuous evolution.
During this unpredictable time, contradictory information is spreading confusion amongst people that do not understand the best practices to prevent further contagion.
Does Wearing Gloves Help Prevent Coronavirus?
Gloves are certainly useful. However, as for face masks, they are not a perfect form of barrier protection for those hoping to avoid germs in public places. On the other hand, in many cases wearing gloves is necessary if not paramount for certain jobs. For example healthcare workers and workers in the food and beverage industry, gloves are already required for their daily activities.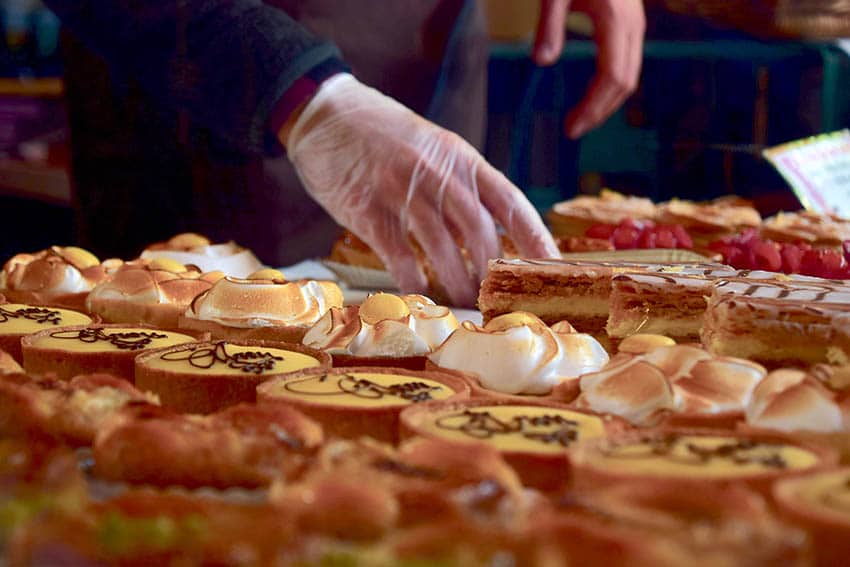 Just like face masks, gloves remind you not to touch your face and avoid the exposure of the skin to bacteria. Unfortunately, one of the most common mistakes when wearing the gloves is believing that you are invincible, like Mario Bros when jumping on a superstar. In other words, wearing gloves might provide a false sense of security.
Of course, transmission via respiratory droplets is the most common way to spread Covid-19. In addition, the virus can be transmitted to people also from certain contaminated surfaces. Consequently, gloves are useful as a layer of protection against germs that you may have come into contact with. However, it is important to understand that anything you touch with your gloves could technically be contaminated too. Then, you might transfer germs to any and all surfaces they touch.
To avoid this, it's necessary to wash always your hands immediately after removing your gloves, or in alternative use a hand sanitizer.

How can I properly take gloves off?
As with masks, how you remove your gloves is an integral part of preventing any cross-contamination. To stay safe, it is important to take extra care when taking your gloves off.
The Centers for Disease Control and Prevention (CDC) set a step-by-step guide to help with this process:
Grasp the outside of one glove at the wrist. Do not touch your bare skin.
Peel the glove away from your body, pulling it inside out.
Hold the glove you just removed in your gloved hand.
Peel off the second glove by putting your fingers inside the glove at the top of your wrist.
Turn the second glove inside out while pulling it away from your body, leaving the first glove inside the second.
Dispose of the gloves safely. Do not reuse the glove.
Clean your hands immediately after removing gloves.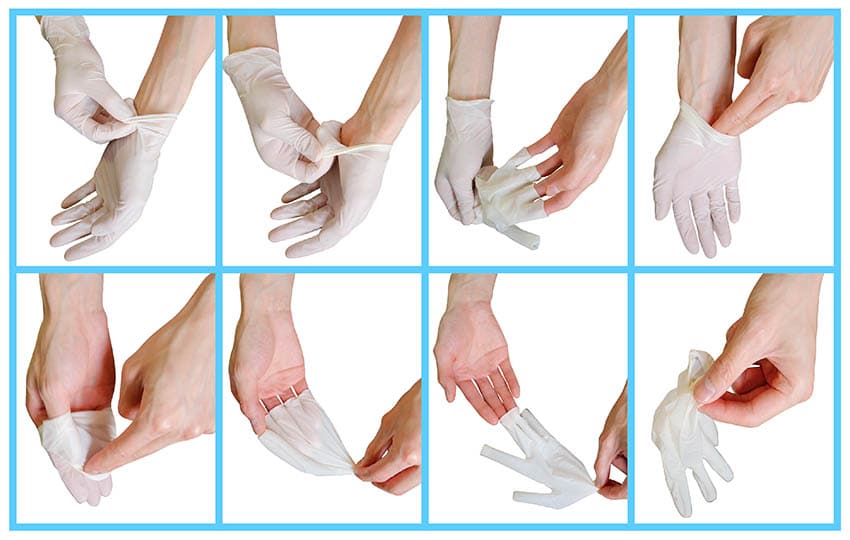 Are Protective Gloves all the Same?
There are several types of gloves commonly used to help prevent the contagion of the virus.
Nitrile Gloves
Nitrile gloves are a type of disposable glove made from synthetic rubber, and are an ideal alternative when latex allergies are of concern. They offer superior strength, dexterity and resistance to oils and aqueous chemicals in comparison to vinyl or latex. Also are the best when it comes to puncture resistance. For these reasons, they are often used in the medical, laboratory and manufacturing industries.
Latex Gloves
Latex Gloves are a made of natural rubber latex, they are the most flexible and resilient with a consistent fit. Since they represent a great barrier protection against infection and contamination, latex gloves are a popular choice of protective glove for medical or industrial use. When allergy to this material is not a concern, latex does have a slight advantage with comfort and dexterity over nitrile gloves.
Vinyl Gloves
Vinyl gloves are a type of disposable glove, made from a synthetic material: PVC. Vinyl is less elastic than nitrile and latex, giving it a looser fit and smooth, comfortable feel. Vinyl gloves are a good multi-purpose glove for general use and activities that do not require the highest degree of tactile precision. In particular, these gloves are often used in the food and manufacturing industry.
Polythene Disposable Gloves
Polythene disposable gloves are used to offer basic protection from dust and dirt.
They are thin, offer excellent dexterity and are highly economical, ideal for situations where a degree of protection is required but not necessary (cleaning, catering, petrol stations).
For the general public, it is important that such disposable gloves are prioritized for the front line and health care workers that need this equipment. Using other types of gloves and making sure that you are constantly washing your hands and maintaining good hygiene are important steps to prevent further infection.
Are you looking for Protective Gloves or other Medical Supplies?
We are currently working with our partners to provide a range of protective gloves and other medical products face masks, face shields, hand sanitizers, medical suits, gowns and goggles to meet your needs. Please contact us for more information at coronasupplies@et2cint.com .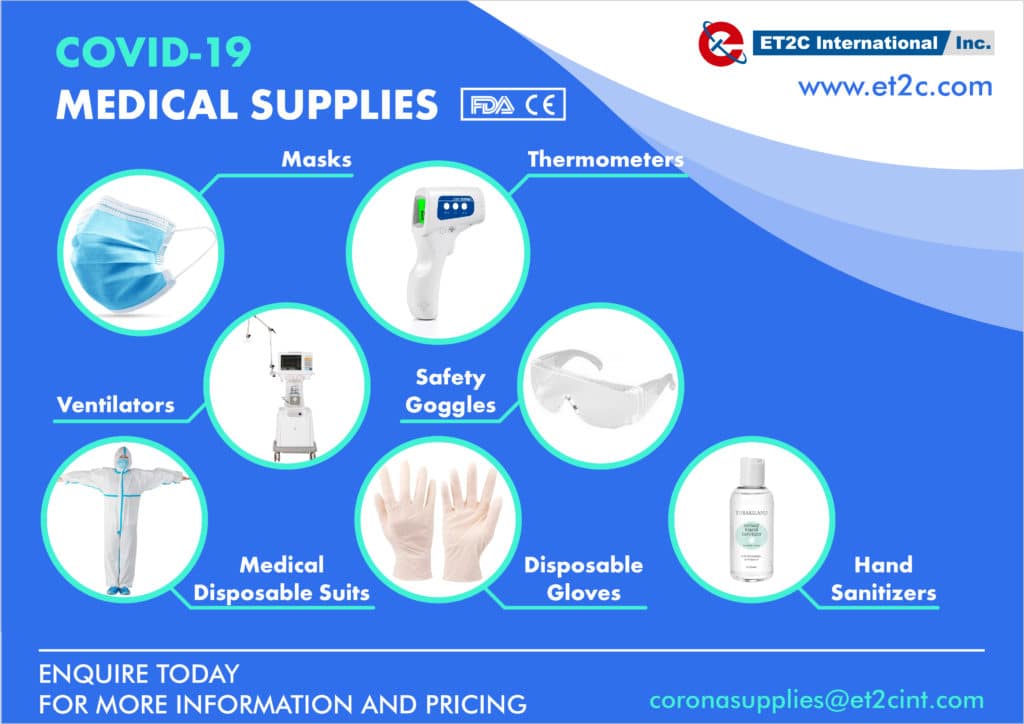 Click here to download our Medical Supplies Offering.
Disclaimer. According to the World Health Organization, the use alone of rubber gloves in public will not prevent from catching the coronavirus, and must be used in combination with normal hygiene methods, such as handwashing with soap and water.