Multifunctional Furniture: The New Trend to Optimize your Space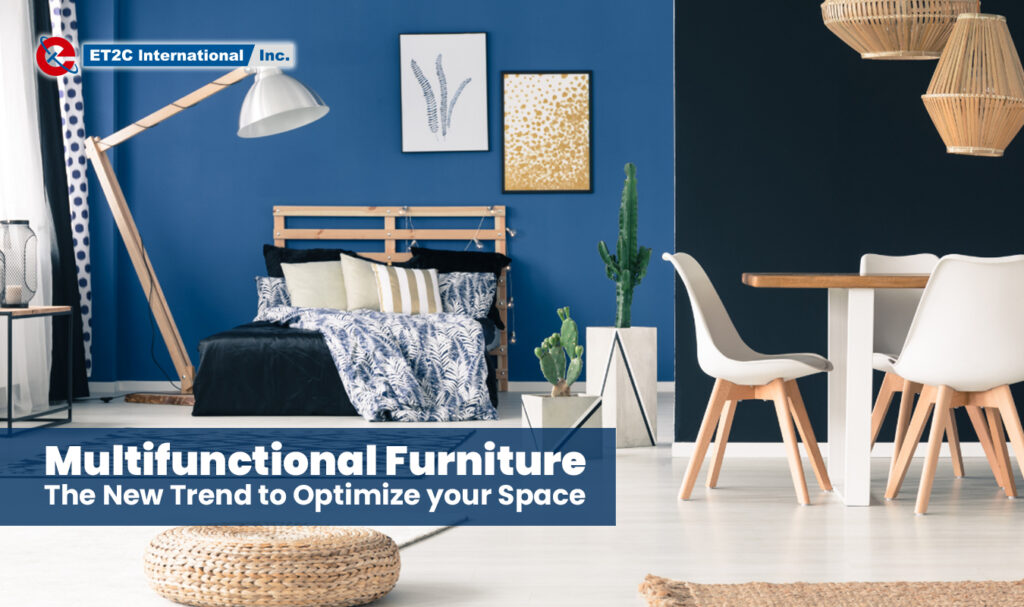 Multifunctional Furniture has become an increasingly important trend as people look to maximize the use of space within their homes.
Overview
Multifunctional furniture has the ability to enhance our homes. The 'winds are changing' and more and more people are mindful of their living space and choosing functionality over size. With increased property prices and cities being overpopulated, optimizing your space seems to be the best solution for those who are conscious of their budget and space, and want the furniture to last longer. It is also part of the current surge in downsizing that is the driving force behind a range of creative and elegant furniture solutions.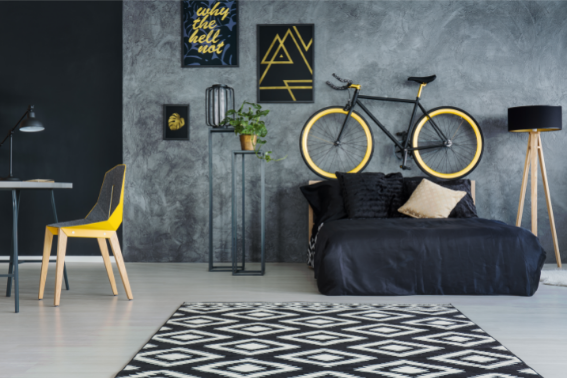 Multifunctional Furniture is particularly useful when you need to decorate smaller apartments and living spaces or simply adapt a trendy and interesting solution to your space. It is also a good way to make a bold statement about your personality and enable your lifestyle with furniture that adapts to your way of life.
Multifunctional Furniture
What is Multifunctional Furniture and what are its advantages? The right piece of Furniture can:
Help keep your belongings tidy;
Optimize living space;
Make the best use of small apartment; and
Feature interesting and trendy design.
Multifunctional Furniture can be a part of any room's interior, including the kitchen, bedroom, study, kids bedroom, Living room and even terrace or balcony.
Below are a couple of ideas for different living zones and spaces.
1. Furniture for Kids' Room
Having their 'own corner' is extremely important for children of all ages. And regardless of how big or small the room is, everyone realizes that a child should have as much space as possible to play in, learn and discover. Below are some great solutions for Children of all ages.
Childbed with storage unit;
Drawers under the bed and wall shelves can help to organize clothes, toys and books. This design will grow together with a child and will be a great fit in the room of a toddler right through to a teenager.

Childbed with slide and playground;
Nothing presents a better example of combining functionality and fun when it comes to young children. The bed can be combined with a slide, ladder, exercise wall or even treehouse.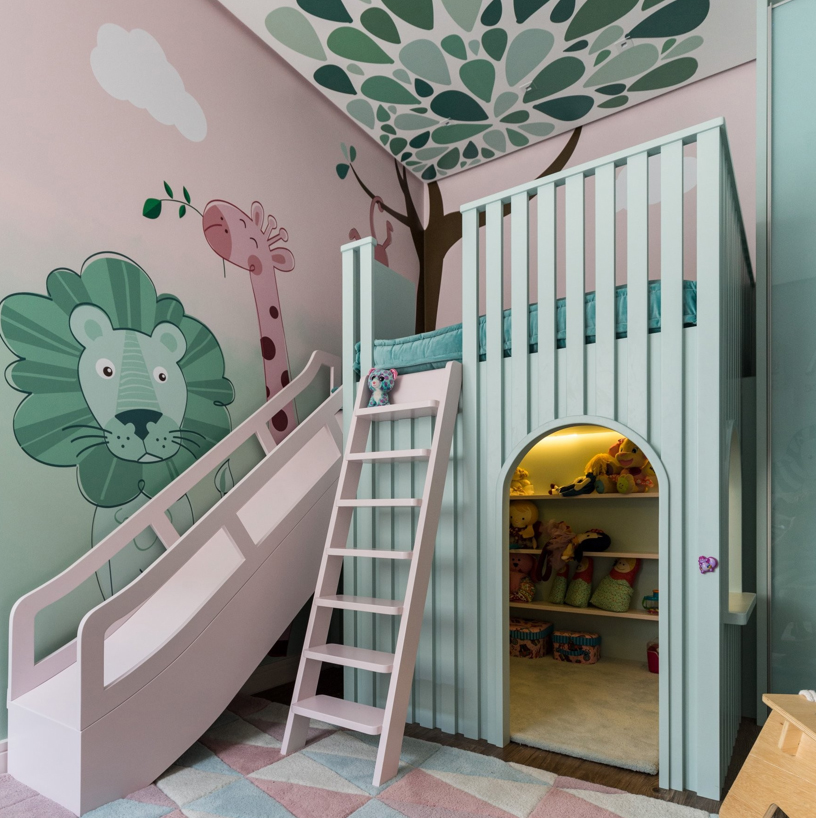 Craft paper folding bench
This unique and sustainable collapsible design allows up to 10 people to be seated. When folded together, it can be stored under the table or used as a side table. A perfect piece of furniture for an unexpected children party. And it is also available as a stool option.

Nesting Children's Furniture
The nesting children's furniture looks like a gradient side table when stacked together neatly. When pulled apart, they form two sets of desks for different age groups. Each desk component is equipped with storage compartments as well.

2. Space-saving Pet Furniture
Over the past year, lots of office workers spent significantly more time at home due to the Pandemic with extended lockdowns and working hours' adjustments. For many of them, this meant spending more time with their pets. Below are some of the solutions that allow furniture to be shared with your pets:
Rocking-2-gether chair
This chair is a combination of a rocking chair and a pet house. A great spot for relaxing on the chair along with a furry friend absorbing some afternoon sun.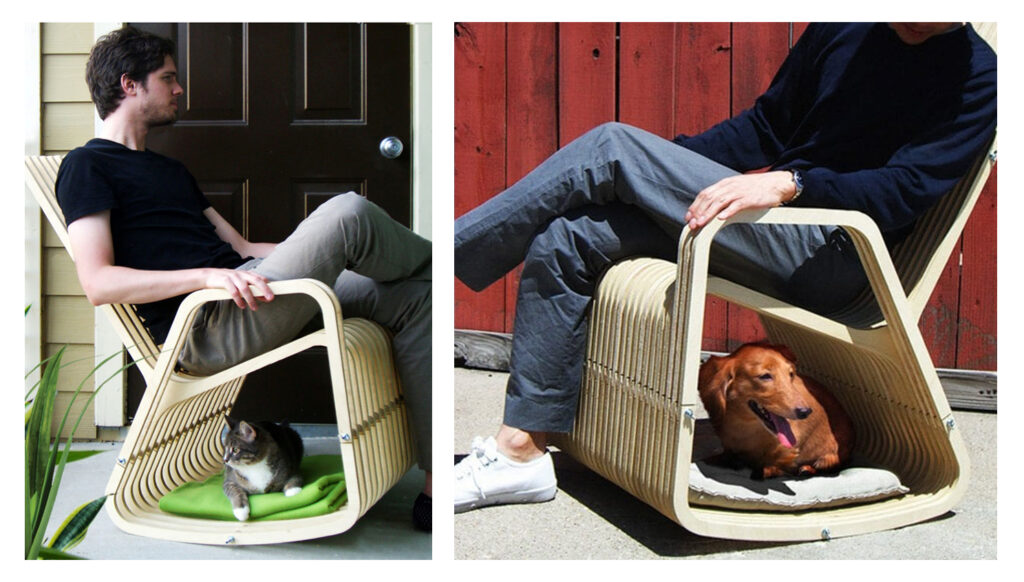 Cat litter box/planter
Some litter boxes are designed to look like a house plant to cleverly become part of the home décor. With a two-piece bottom and a cut-out, a cat can easily take care of its business. The Litter box can also be hidden inside the side table or storage unit.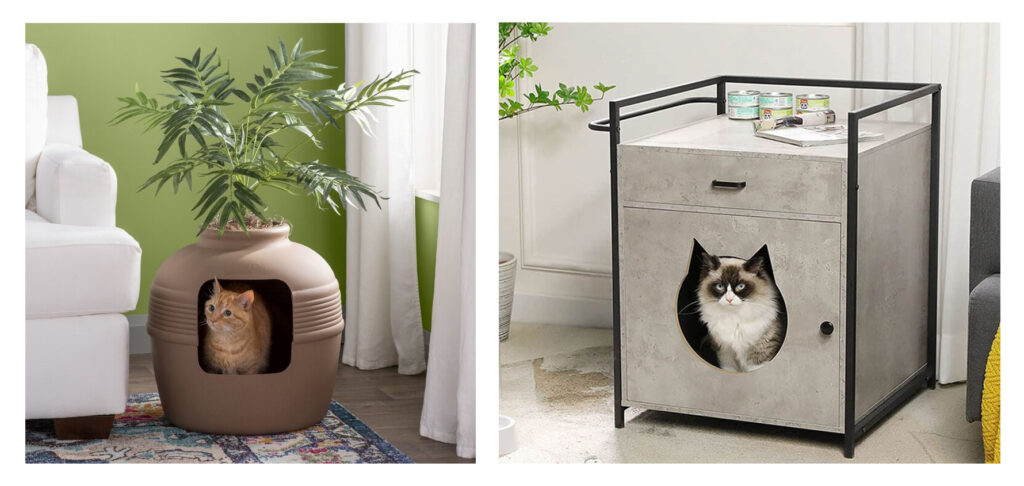 Cat hammock
It is easy to share a table for a morning coffee or late evening snack together with your cat by fixing a cozy hammock right under the coffee table. It can also be placed on any chair or even inside the ottoman to get an extra secure spot for your pet.
Bookshelf Window Perch
For those small pets, a Bookshelf with step pads and perch will easily blend into the study or living room's décor. Storage units can be used to declutter your home, and give a pet some exercise as well as help with fighting anxiety and boredom by giving free access to the window when an owner is not around.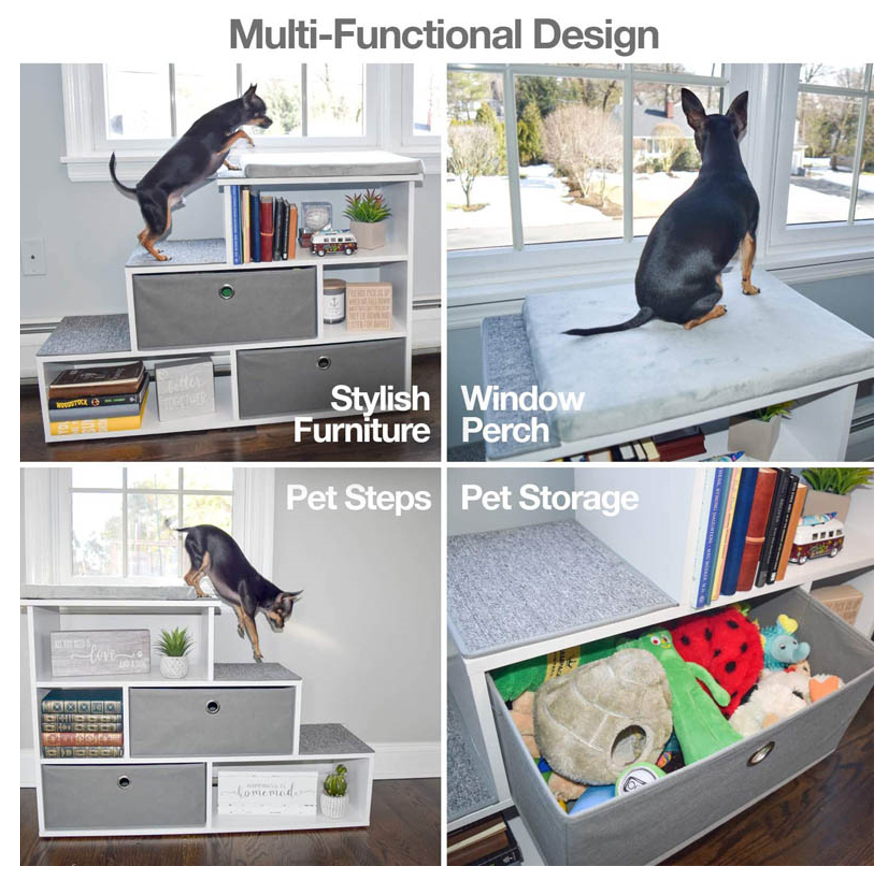 3. Table solutions
Table-mirror transformer
A table is an essential part of any space, that allows you to dine, do some office work, practice a hobby or to just read the paper. A table that serves as a mirror when on the wall, and as a dining table or work surface when down is a great example of Multifunctional Furniture.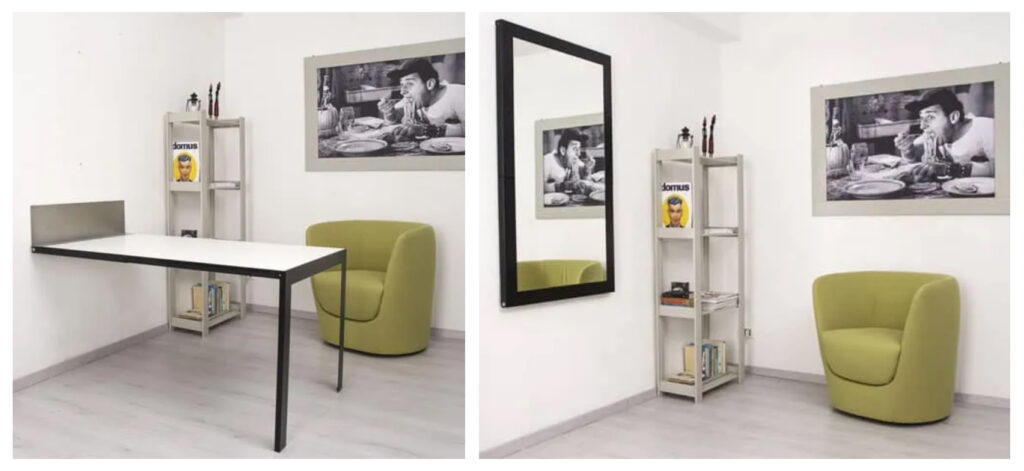 Foldable dining table
From a slim side table to a full dining table in a couple of minutes – these multi-use furniture pieces can seat up the whole family when fully unfolded.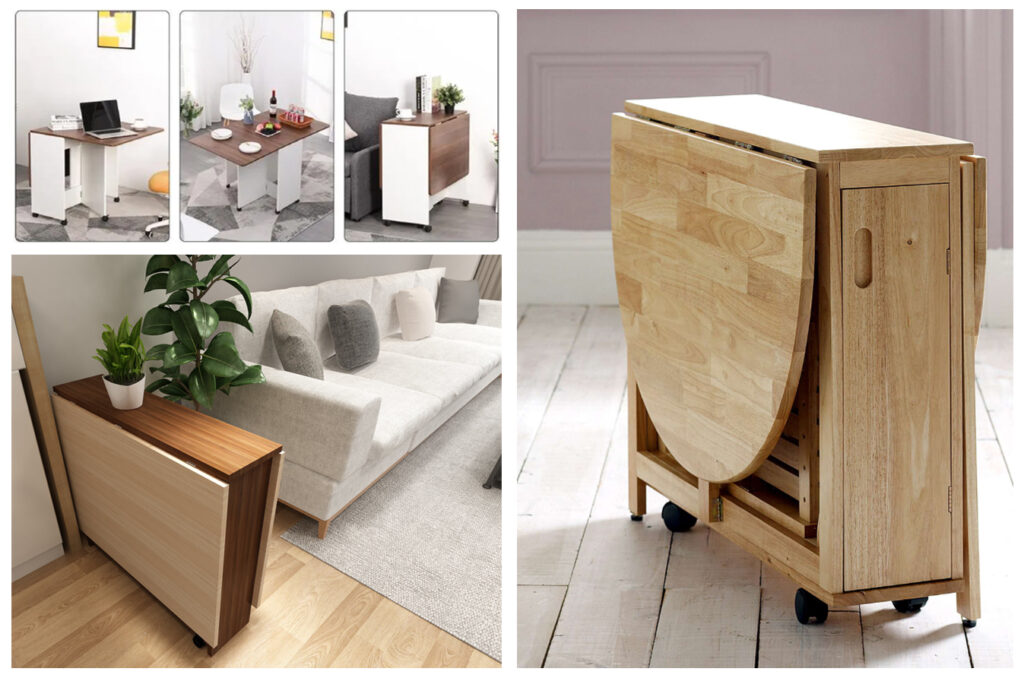 Extendable kitchen trolley
Handy for storing extra dishes, using as a breakfast bar or adding a bit more workspace when preparing meals. This trolley can be easily moved away when not required allowing more mobility in the kitchen.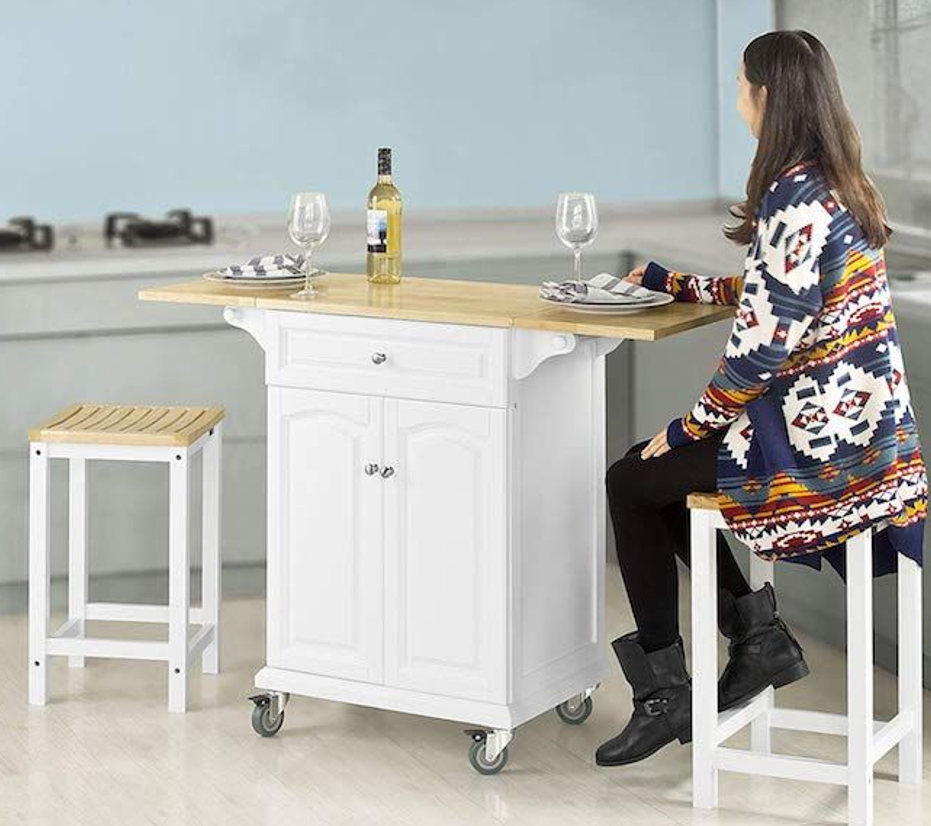 Stacking table
Stacking units come apart easily to be used as separate coffee tables. When put back together it can be used as a book/storage shelf.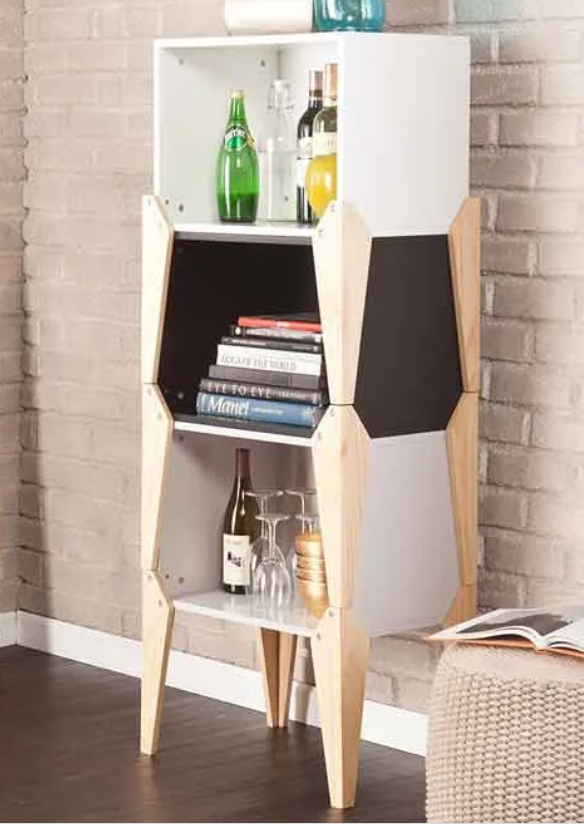 Multifunctional Furniture – Develop Your Concept
We at ET2C work with a range of factories from China, Vietnam, India and Turkey in order to support and develop new Multifunctional Furniture concepts. Aluminium, steel, wood and even cardboard can be a material for inspiration. Reach out if you are looking for some unique pieces of furniture that can help to optimize home space and organically fit into all kinds of homes. For more information, please contact us at contact@et2cint.com.