Face Mask, stay safe and protect the environment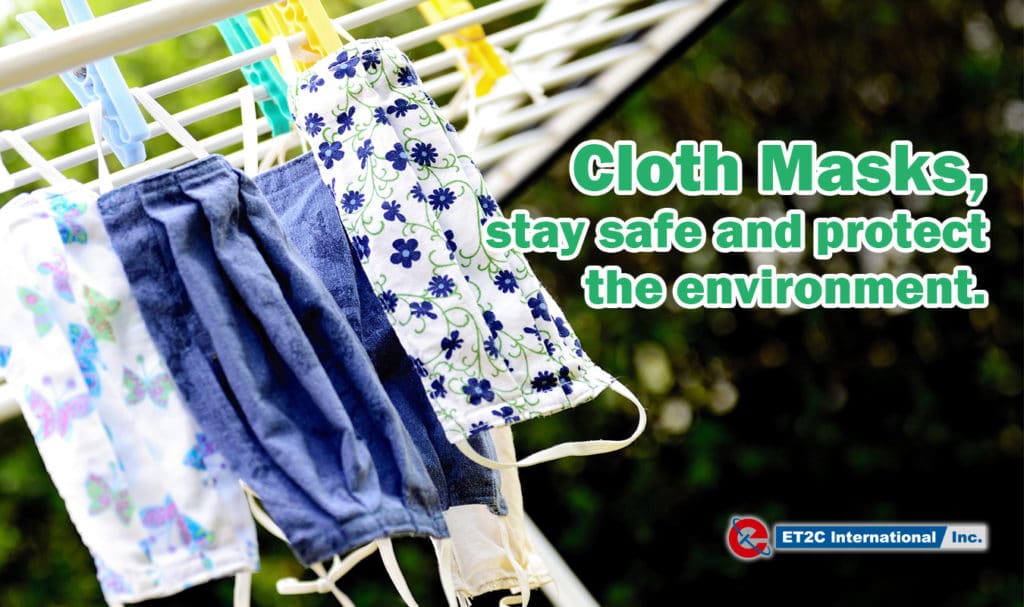 Over the past 4 months there have been a number of conflicting opinions on whether face masks can prevent the new covid-19 virus from transmitting from one person to another. Inevitably though, with an abundance of caution, many governments have changed their guidelines and regulations on the use of the face mask and made them a key part of their post 'lockdown' strategies.
At the time of writing, more than 50 countries require people to cover their faces when they leave their home. For example, the French Government, who originally declared that masks were "unnecessary" this week has made it mandatory to wear them on public transport and in secondary schools and is distributing masks through supermarkets and pharmacies. Likewise, the Hong Kong Government has provided a free cloth mask for all permanent residents as part of their strategy.
Disposable Masks: a threat for the environment?
Of course, this conflict in public health advice is confusing for the public. Moreover, many are also concerned by the impact that this Personal Protective Equipment (PPE) could have on the environment. Most face masks available for sale are made from layers of non-woven material and are designed to be for single-use. Undoubtedly, with large volumes of PPE, one output of this pandemic will likely be a large amount of PPE that has been disposed of over the last couple of months. Certainly, this represents a serious threat to the environment.
A recent report published by the UCL Plastic Waste Innovation Hub reveals that if, for example, every person in the UK used one single-use face mask each day for a year, it would create 66,000 tonnes of contaminated plastic waste, and ten times more climate change impact than using reusable masks.
Obviously, medical and other healthcare providers have to use disposable masks for safety reasons.
In order to reserve these critical supplies for healthcare works, many Governments and health organisations, are recommending people to wear cloth face coverings in public settings where other social distancing measures are difficult to maintain.
This represents for sure a more environmentally-friendly option, since the fabric masks are washable and reusable.
Fabric Masks: are they all the same?
It's important to remember that the protective masks are not all the same. Different types of mask offer different levels of protection.
In particular, the homemade masks that don't include any particular filter are not so effective. Already in 2013, a research by the Public Health England demonstrated that the surgical mask blocks the transmission 3 times more than the homemade mask. We are currently working with our partners across Asia to provide a range of Cloth Masks that could represent a more sustainable choice compared to disposable products, while assuring some additional protection from further contagion.
Cloth Masks from Vietnam: more sustainable and safe.
If you want to choose a sustainable alternative to surgical masks, without sacrificing efficiency in terms of protection, these cloth masks are a great option for you.
3-PLY Droplet Resistant Antibacterial Masks
You can wash and dry for reuse this 100% cotton face mask.
The 3 integrated layers offer a great protection against airborne particles and droplets containing viruses and bacteria. They are comfortable and enable a normal breathing.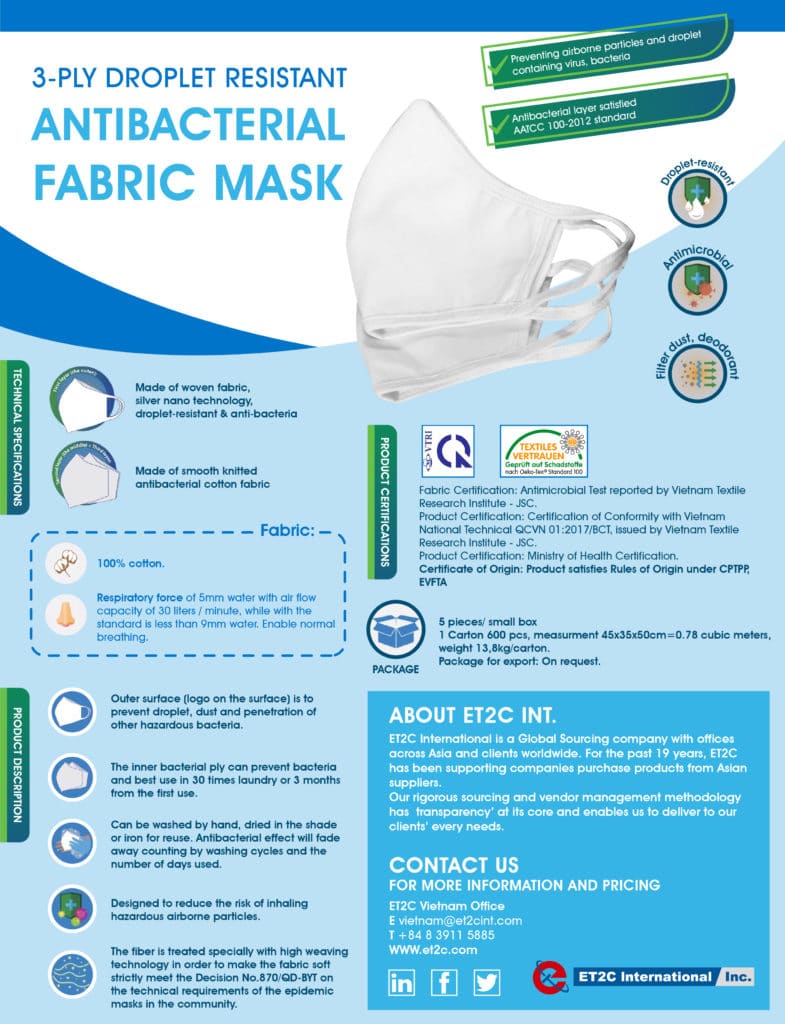 Nano Silver Masks
These 100% Cotton maks are washable and present 3 integrated layers.
In particular, the one in the middle is treated with Silver Nano technology that works as a safety filter. In fact, it eliminates small particles of bacteria that pass through the outer layer of the mask.
Nano Silver technology is an antimicrobial colloid composed of silver nanoparticles stabilized by a polymer that exhibits excellent antimicrobial efficacy across a wide spectrum of microorganisms.
While Silver inhibits the oxygen exchange in bacteria and kills it, this technology enhances that effect even more.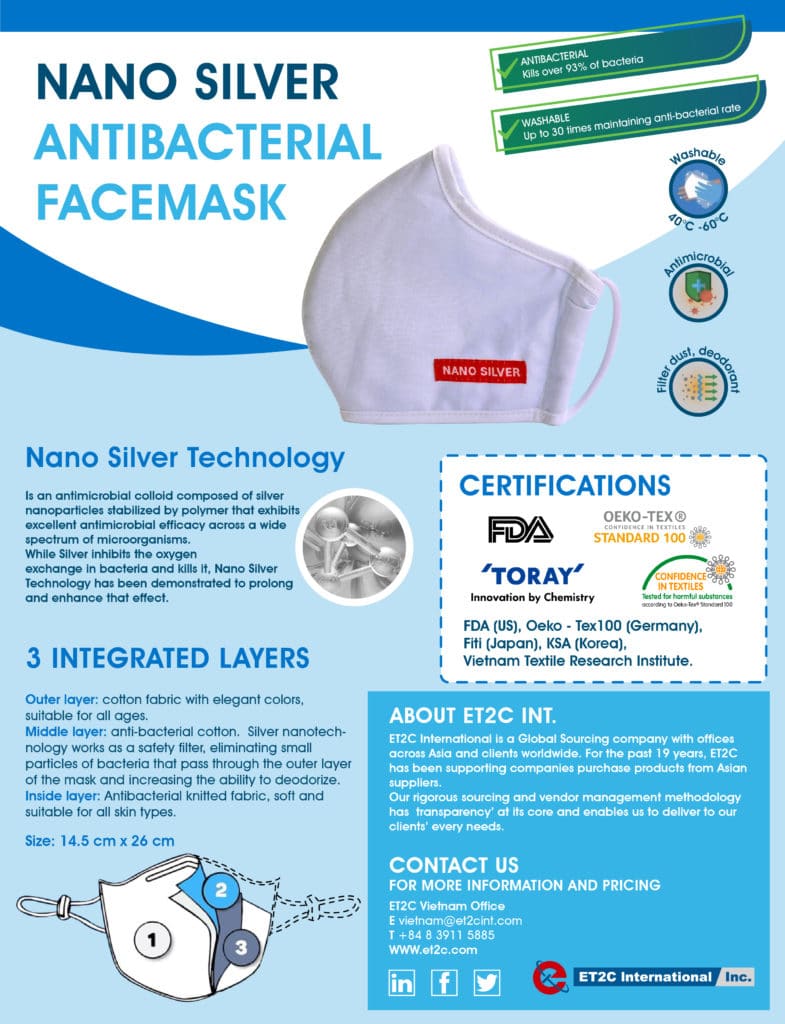 3 Layers Antibacterial Masks
The external layer includes both cotton and polyester, and the antibacterial and nanomesh layers assure high levels of protection. This mask is washable up to 30 times without losing the antibacterial proprieties.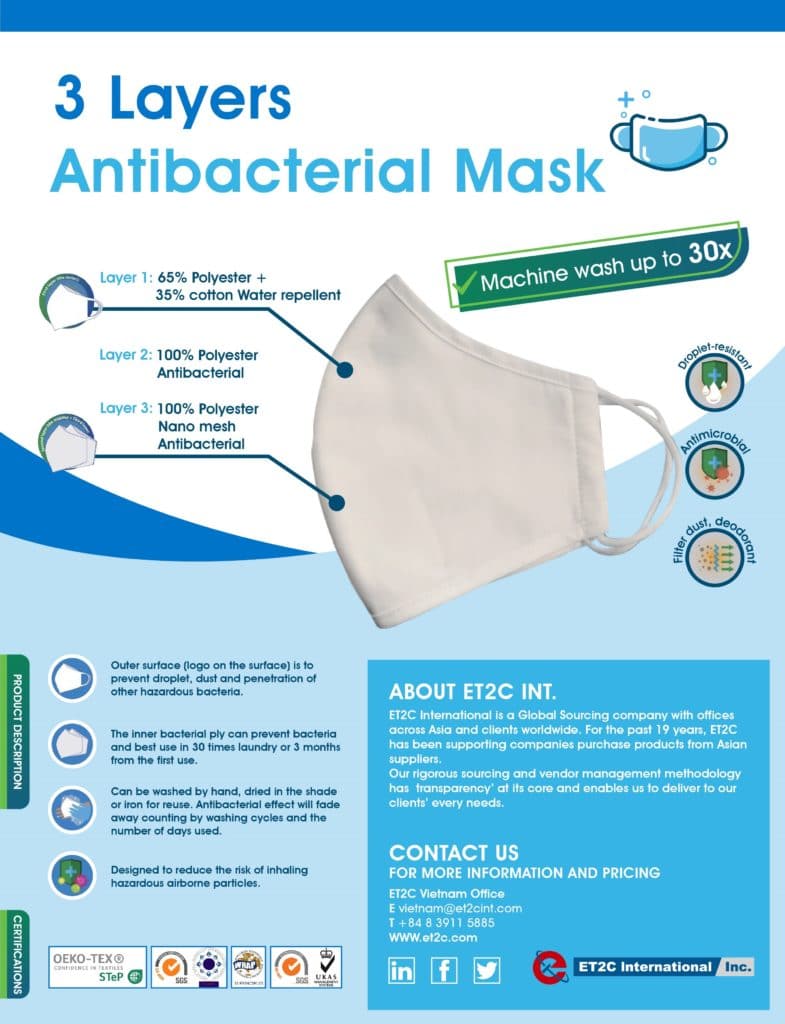 Antibacterial Face Mask
The nose adjustable clip helps keep the mask fit to the face. Anti – UV and water resistant, the internal layers are dust-proof and antibacterial, blocking 99,98% of bacteria. There are two size available: S for kids and M for adults. This product is washable and keeps its antibacterial proprieties in the first 30 washes. However, hand washed or delicate machine wash are preferred to prevent any damage to the original shape.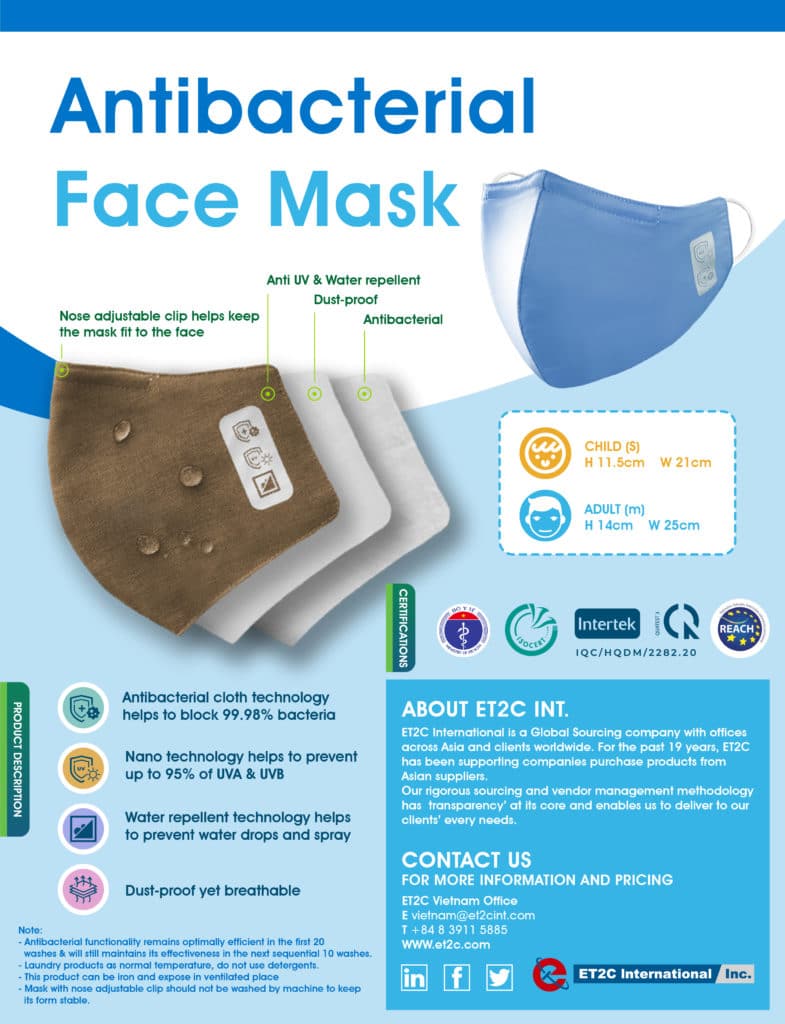 Looking for Cotton Masks? We can help!
We are currently working with our partners in Vietnam to provide a range of Face Masks to meet the world's needs and to combat this deadly virus. In addition, we have other medical products from disposable masks, protective gloves, face shields, hand sanitizers, medical suits, gowns and other products to meet the current need for medical products on 'frontlines' across the world. From a sourcing perspective, the current regulatory landscape in China is very complex for these products. Please make sure if you are buying direct, you are doing the appropriate due diligence and checks. For all enquiries, please contact us for more information at coronasupplies@et2cint.com .
Disclaimer. According to the World Health Organisation, masks alone will not prevent people from catching the coronavirus. Remember to use them in combination with normal hygiene methods, such as handwashing with soap and water.