Exploring China International Furniture Fair 2023: Unveiling Furniture's Future Trends and Innovations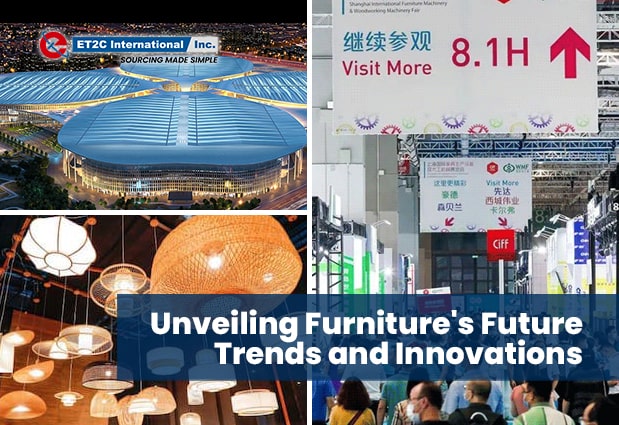 Discover the future of furniture at the China International Furniture Fair (CIFF) 2023. Dive into the world of high-end furniture, explore OEM trends, and witness the blending of indoor and outdoor living. Learn how sustainability is reshaping the industry and stay ahead with insights from ET2C International. Join us in this journey of innovation and evolution in furniture design to keep your strategic sourcing focused on future trends.
The World's leading professional home furnishings exhibition, CIFF was recently held in Shanghai. The Exhibition attracted more than 1,500 brands and nearly 150,000 visitors in each of the four sessions.
CIFF has become the premier exhibition of home furnishing commercial design in China. The world's top design brands showed up with new products, presenting a new style of home furnishing design for the industry. The fair creates the world's most preferred one stop trading platform for product launch, domestic sales and export trade in the furnishing industry.
In the dynamic world of furniture and design, staying ahead of the curve is crucial. One way to do this is by attending industry events like the China International Furniture Fair (CIFF).
Where suppliers showcase their new products and the trends for the new season.
In this post we will share our thoughts on the most interesting new developments in furniture and the trends that we see emerging in the coming seasons. Identify how to shape your sourcing strategy for furniture both indoor and outdoor.
ET2C International
We are a leading Global Sourcing company with over twenty years' experience working with our clients supplying Indoor and Outdoor furniture. Our team of 250 colleagues are based in seven offices in key sourcing markets across Asia.  Our expertise covers a range of industrial products, machinery applications and consumable products.
We work with our clients to make their global sourcing simple, becoming their bridge to their supply partners. Where time zones, language, business communication expectations or QC can become challenging.
Our team of experts can help you build and deliver your sourcing strategy and ensure you are working with the right factory partners. Giving you independent feet on the ground and confidence with fast responses, removing time zone and language challenges. If you would like to explore sourcing opportunities y or to discuss your future supply chain challenges. Please contact@et2cint.com
The World of Brand and High-End Furniture
Our journey at CIFF began with a brief exploration of the world of branded and high-end furniture. While this segment wasn't directly aligned with our business or clientele, it's always inspiring to see the creativity that goes into these pieces. In just 45 minutes, we had a quick look at what this part of the exhibition offered.

Furniture and Factories: Where the Magic Happens
 However, where we truly immersed ourselves was in the realm of OEM (Original Equipment Manufacturer) furniture and factories. It's in these special spaces that the heart of furniture production beats. There were a number of interesting and powerful new trend concepts on display at the show. 3 trends in particular caught our eye as having strong consumer adoption and potential to drive strong innovation.
1.Breaking Through the Boundary Between the City and Nature
As the markets for both outdoor furniture and camping grow consumers are increasingly interested in furniture that can work in both contexts or inspire the feel of nature in their own outdoor space . Between 2022 and 2027, the global market for outdoor furniture will witness significant growth, increasing by US$5.2 billion, with an annual growth rate of 3.28%. Camping furniture is also on the rise, the global camping market is expected to increase by US$2 billion at an annual growth rate of 6.99%. Developing great opportunities for retailers in this evolving trend.
2. Blurring the Line: Indoor Meets Outdoor
One theme that emerged at CIFF 2023 is the diminishing boundary between indoor and outdoor spaces. The concept of "lightweight outdoor" is on trend, with outdoor furniture being developed for easy storage. It's no longer just about nature; it's about seamlessly blending indoor and outdoor living. Outdoor spaces are becoming more accessible and integral to our daily lives.
"Outdoor is not only about nature, but also about the mix between indoor and outdoor. Outdoor is easy to be reached by people." Commented ET2C China office's Business Development Manager Wendy Xu.
3. A Sustainable Approach
Sustainability was another dominant theme. The furniture industry is increasingly focusing on sustainable materials. As we confront environmental challenges, we will see more responsible practices and eco-friendly materials in the world of furniture design. Consumers all over the world are seeking more environmentally positive choices in their furniture purchase, usage and through its end of life.

China's Growing Role in Furniture Production
In the domestic market, China is still in the initial stages of embracing outdoor furniture. Interestingly, most of the business in this segment is oriented towards overseas markets. As China's domestic demand grows and aligns with global trends, we can anticipate exciting developments in the outdoor furniture sector. CIFF 2023 provided a glimpse into the future of furniture, where boundaries blur, sustainability reigns, and creativity knows no limits. It's an exciting time to be part of an industry that's evolving and innovating with every passing year. Whether you're a furniture enthusiast, a designer, or a business owner, the world of furniture design is constantly evolving. Stay tuned for more updates and insights. We look forward to incorporating these insights into our business and sharing the journey with you.
Our team of experts can also help you build and deliver your sourcing strategy and ensure you are working with the right partners. Giving you independent feet on the ground and confidence with fast responses, removing time zone and language challenges.
If you would like to explore sourcing opportunities or to discuss your future supply chain challenges. Please contact@et2cint.com