6 Good Reasons to Source from Vietnam
By ET2C International Inc Vietnam branch
Vietnam is one of the World factories that could fit with your needs; you can read more and more on the internet from sources like journalists, bloggers and directly from companies themselves. How is it possible for Vietnam hold that position? ET2C Industry Insight will list down for you 6 reasons to source from Vietnam.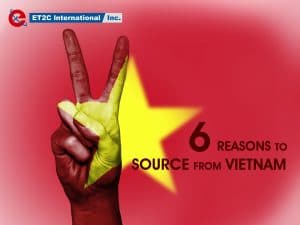 1. Favorable geographical location
Vietnam is one of the top South-Asian countries with almost 3.500 kilometers coastline, this large cover of sea access makes it a great potential for shipping efficiencies and open doors to countries with no access to the sea such as Laos and Cambodia. Vietnam has a total of 114 seaports, 14 of which are relatively large and named as one of the keys to economic development, we can list down the three main commercial ports, Saigon port in the south, Da Nang port in the center and Hai Phong port in the north.
2. A young and skilled workforce in Vietnam
Vietnam can offer to companies that are willing to invest in there skilled workforce a production of higher quality products relative to other low earning countries in the region. Vietnam actually wants to remain competitive, with very low labor rates, while bringing a greater quality for an economic transformation that is why for the instance Vietnamese workers perform better in reading than workers in other low earning countries.
The industries in which the Vietnamese workforce excels in are manufacturing, IT, retail, healthcare, tourism, pharmaceutical, logistics, agriculture and e-commerce compared to our low earning countries.
3. Numerous positive trade agreements
Trade agreement including Vietnam have been impended in large numbers over the last decade. We can of course start with in which Vietnam is a member and has an important seat in the discussions taken. ASEAN is not only political but economic where investments, trades and shipping remain ease. Vietnam is a member of WTO since 2017 which makes trades flow faster and smoother, it is also covered by the regulation organ of WTO for any trade dispute. Finally, it is between both US and EU that Vietnam has created some economic links through the TPP recently by completing all bilateral negotiations, it has not been sanctioned yet with EVFTA, 28 members of the EU can trade freely with the most ambitious developing country, Vietnam.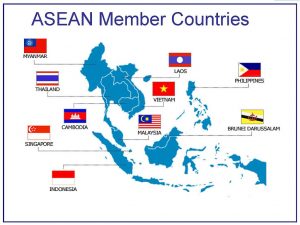 4. The best political stability option of the region
Vietnam is a communist country which has successfully achieved a change on its economic and business environment at the right time in 1986 through the "Doi Moi", a political and economic innovation campaign. It is indeed possible to create foreign companies, develop them and be sustainable compared to other options in South East Asia where political stability is weaker. Vietnam is now officially one of the fastest growing countries of South East Asia with an economically robust, politically stable and rapidly growing market.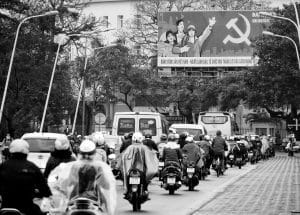 5. Great and unique production units
Vietnam is a great choice for companies willing to start sourcing and save money and time.
Small and medium companies are a perfect fit with Vietnam as working with production units from Vietnam will also allow them to purchase in small quantity. This major manufacturing hub in the ASEAN region also provides user-friendly administrative procedures for exports and imports.
6. Great partners for this journey
ET2C International Inc Vietnam branch will be a great match to your inquiries into Vietnam.
With more than 10 years of experience working in Vietnam, we continuously examine all local factories and sort through them to bring you the best quality at the best possible price.